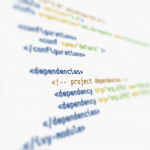 So far, we've covered the basics of creating a re-distributable .jar package suitable for use as a library, and building a Jar file which can be run by a user or server process.
A major part of any non-trivial application these days is the inclusion and re-use of 3rd party libraries which implement functionality your applications require. When a project starts, it's probably easy enough to manually drop the odd jar library into a lib directory and forget about it, but maintaining a large application which depends on many libraries, which in turn depend on additional libraries for their own functionality, it can quickly turn into a nightmare to manage.
To solve this problem, many dependency management tools have been introduced, most notably, Apache Maven. Maven however, is so much more than just a dependency management tool, and is actually intended to manage your entire project structure. I believe however, the combination of Ant and Ivy provides far more flexibility, extensibility and control over your build and dependency management processes.
So, let's integrate Apache Ivy into our Ant script as we left it in part 2.
Continue Reading ...